8 Steps to Straight Hair Without A Straightener
Posted on September 27 2013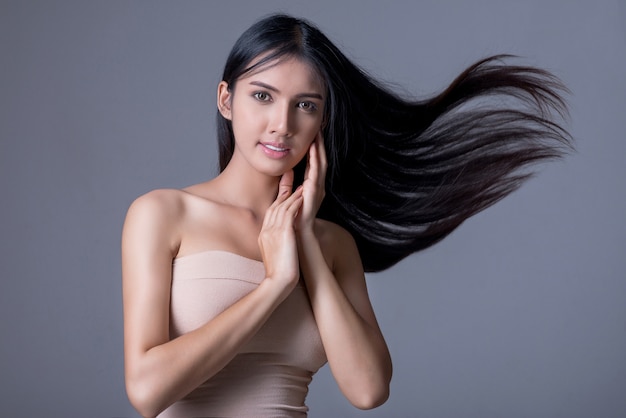 There is no greater temptation than wanting to straighten your hair with nice hot flatiron. Its quick, easy, long-lasting, and gets the job done well. Unfortunately, flatirons are the primary cause of breakage to hair. So, rather than picking up another 'hair-burner', try for a nice blowout instead.  Blowouts take a bit more time but they are just as effective and way more courteous to your hair.
Wash and condition hair in lukewarm to cool water with the smoothing shampoo of your choice.
 Once you have rinsed your hair completely free from products, give it another rinse of cold water to smooth the hair cuticle and lock in the moisture. Make it as cold as you can stand!
Towel blot your hair to ensure a little dampness to your hair. Add your favorite leave-in conditioner like Keratase' Serum Oleo Relax, paying special attention to the ends of the hair. Then carefully comb through your entire head of hair with a wide-tooth comb.
Part your hair and secure the top layers with clips on both sides. To straighten curls and remove all traces of frizz, you must tackle them while they're still damp. Begin by lightly misting on a straightening spray too each parted section of your hair. Try John Frieda Frizz-Ease 3-Day Straight ($10, at drugstores)
Starting with the loose hair in the back, pull one-inch sections forward with a large, round, mixed-bristle brush as you dry from roots to ends. Unclip the top layers and continue drying the hair from root to tip.
Blow dry hair on a warm air setting using the nozzle attachment on your dryer.
Once all of the sections are dry, switch your 

blow dryer

 to a cool setting and give your hair another all over with the blow dryer and the brush. The cool air helps to set the style.
Take your favorite smoothing or shine serum and apply a small amount to your hair from about mid-shaft to the tips. John Frieda Frizz-ease HAIR SERUM ORIGINAL FORMULA is a good product. 
Voila! Straight hair without the straightener!